You can publish ReqView Project Files to Google Drive cloud service and share them in your team. Once a document is uploaded to Google Drive it can be opened directly from Google Drive in ReqView WebApp or opened in ReqView WebApp directly from Google Drive UI.
Access Authorization
Before using Google Drive from ReqView you shall authorize ReqView to access your Google Drive. Google Drive Request for Permission dialog is shown automatically first time when you try to download or upload a document from Google Drive:
You can revoke access for ReqView any time later, see Authorizing third-party websites to access your account . The authorization procedure is usually needed only one time, however you need to repeat it after revoking the access.
Upload Document
You can upload the Project File for the opened project to Google Drive by File > Upload As menu item or using CtrlU shortcut. The uploaded document is stored in your Google Drive root folder and ReqView remembers its reference to update it later, see section Update Document Revision section bellow.
Download Document
You can open a document from Google Drive by selecting File > Download menu button and choosing a ReqView document from Google Drive file picker dialog: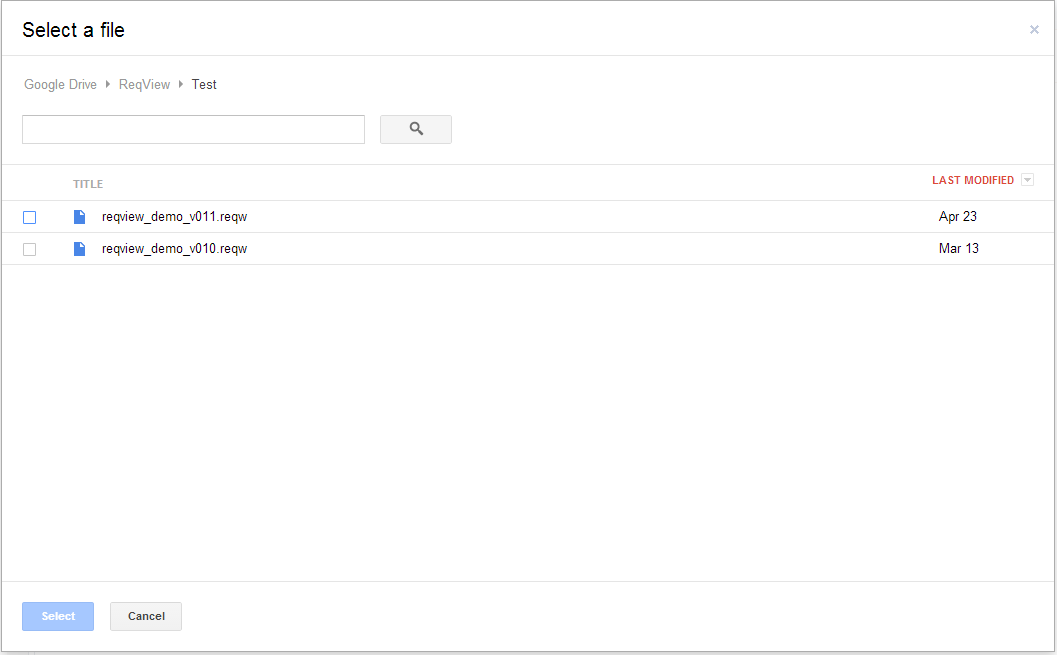 If the document is encrypted you will be prompted for a password.
Open Document from Google Drive
You can also open a ReqView document directly from Google Drive web UI by Open with > ReqView Desktop context menu: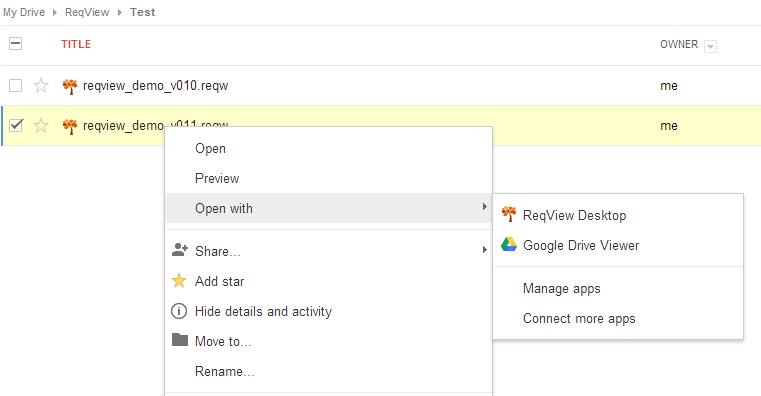 When ReqView is connected to the Google Drive account you shall see ReqView Desktop button in Open with menu and ReqView Desktop button in the preview (black) screen of the shared link. If you press this button the document shall be opened in ReqView Web App. You can edit it and upload the changes to Google Drive (if the user has edit Google Drive rights) or save the document as a local file.
If you do not see ReqView Desktop button in Open with this menu then check if your Google Drive account is connected with ReqView - in Google Drive web application open Settings > Managing Apps. If you do not see ReqView in the list then press Connect more apps and then search for "reqview".
Update Document Revision
ReqView remembers the reference to the opened project from Google Drive so as soon as the current project was uploaded to Google Drive or it was opened from Google Drive you can directly update the project revision stored in Google Drive by File > Upload menu item or using CtrlU shortcut.
Troubleshooting
If you experience failed authorization error message then please try to follow these steps:
Switch off ReqView
Revoke access for ReqView in Google Drive - press cog icon in the right-top corner of your Google Drive web screen, then choose Manage Apps and finally press Options / Disconnect from Drive for ReqView Desktop entry.
Revoke cached ReqView Desktop auth token from your Chrome auth cache visiting following page: chrome://identity-internals/ .
Start ReqView and choose menu File / Download which should show Google authorization dialog, then follow instructions in Access Authorization section above.