ReqView Beta - Requirements Management for Jira
We are happy to announce our first beta release with Jira integration. Try our new document-based requirements management solution for Jira and let us know how it fits your needs!
Manage SW / HW Development in ReqView and Jira
We have good news! Connecting ReqView and Atlassian Jira brings you an integrated application/product lifecycle management (ALM/PLM) solution.
Manage the development of your SW/HW product using the following workflow:
Capture and manage requirements, risks, and tests in ReqView
Export requirements from ReqView into Jira
Trace requirements between ReqView and Jira issues in both directions
Manage the requirements implementation in Jira using an agile development process
Synchronize back the implementation status from Jira issues into ReqView (coming soon)
Note: ReqView Beta integration with Jira supports Jira Software Cloud service hosting Scrum or Kanban team-managed (next-gen) projects at the moment. We plan to add support for company-managed (classic) projects soon.
Export Requirements to Jira
Click Document and select Synchronize With Jira to open the Synchronize With Jira dialog:
Configure the Jira integration for the current document and press OK button to start the synchronization.
Configure Synchronization
You can configure Jira integration in JSON format. The configuration has the following properties:
action — synchronization action; set to export to export the current ReqView document into Jira
jiraSiteUrl — URL of your Jira site; open your Jira project in a web browser and copy the URL with the domain name only (e.g. https://mycompany.atlassian.net)
jiraProjectKey — key of your Jira project; open the list of all projects in Jira and copy the Key value of a selected project (e.g. MYPROJECT)
jiraIssueType — definition of how to set the type of exported Jira issues

string value — create Jira issues with the given type for each exported document object (e.g. Task)
object — create Jira issues, set their type according to the value of a custom attribute, and preserve their parent-child relationships; set the following object properties:

attribute: ID of a ReqView custom attribute used for mapping of issue types (e.g. type attribute of enum type)
mapping: map of attribute values to Jira issue types; only ReqView objects with the attribute value included in the mapping are exported to Jira
Notes:
Jira allows only parent-child relationships between certain issue types (e.g. a Story can be created in an Epic, however a Story cannot be created in a Task).
Jira issue fields and their values should be specified in English.
Jira issue type cannot be changed after export.
Example:
Let see how you can configure Jira integration for the Example Project. We will export user stories from the NEEDS document into Jira project MYPROJECT hosted at Jira site https://mycompany.atlassian.net hosted in the cloud:
  

"jiraSiteUrl"

:

 

"https://mycompany.atlassian.net"

,

  

"jiraProjectKey"

:

 

"MYPROJECT"

,
The Jira issue type will be set according to the value of the custom enumeration attribute type as follows:
if type attribute equals to EPIC, then create an Epic Jira issue
if type attribute equals to STORY, then create a Story Jira issue
else, do not export the document object
Run Synchronization
The synchronization process iterates the current document, creates Jira issues, and sets the following issue fields:
Type — issue type defined by jiraIssueType synchronization property in ReqView
Summary — stores heading and id attributes of the document object exported from ReqView
Description — stores text attribute in plain text format and a URL link referencing the document object exported from ReqView
Parent — the parent issue corresponding to the parent object in the exported ReqView document, e.g. it preserves Epic / Story parent-child relationship
ReqView is the owner of exported requirements and the above Jira issue fields should not be changed in Jira. However, development teams can use other issue fields to plan requirements and manage the development in Jira.
For instance, if you use a Scrum project, set the following Jira fields:
Assignee — assign the issue to a team member
Sprint — plan the issue for a development iteration
Story point estimate — estimate the implementation effort
Status — track the issue development status
etc.
You can repeat synchronization with Jira for each new updated version of the ReqView document. The process will update Jira issues created earlier or create new issues for new requirements created since the last synchronization.
Requirements deleted (or purged) in ReqView will be marked as deleted in Jira using "[Deleted]" prefix of issue summary. You can query such issues based on the prefix to remove them permanently from Jira or invalidate them using the Status or another issue field.
Enter Jira Credentials
For security reasons, ReqView uses Jira API tokens to access Jira projects (not passwords). See Manage API tokens for your Atlassian account documentation page for more information how to create and manage Jira API tokens.
When synchronizing for the first time, enter your Jira login email and API token in the Jira Credentials dialog: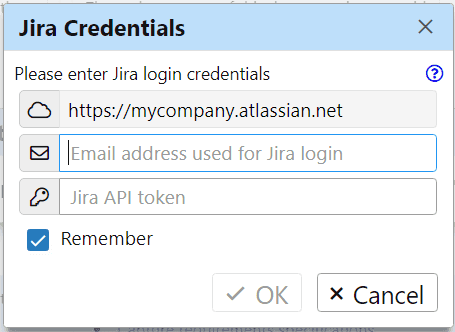 If you wish to persistently save the Jira credentials into the secure application storage enable Remember checkbox in the dialog. To erase saved Jira credentials later, click on the Clear Credentials button in the Jira Synchronization dialog.
Trace Requirements Between ReqView and Jira
ReqView integration with Jira enables bidirectional traceability by URL links.
Jira issues exported from ReqView contain a URL link to ReqView at the end of the Description field. Click on this URL link in Jira to navigate to the corresponding requirement in ReqView.
To navigate from ReqView to Jira, define a custom attribute jiraIssueUrl of xhtml or string type in a ReqView document. This attribute will store the URL link to the exported Jira issue. If the attribute has xhtml type, click on the attribute value to navigate to the corresponding Jira issue.
Example:
The following snippet demonstrates how to define read-only jiraIssueUrl attribute storing the URL link to Jira:
Try ReqView Integration With Jira
Join our Early Access Program and get a unique opportunity to be one of the first users trying ReqView Beta with Jira Integration. Let us know how we can adjust the feature to fit your use case. Just contact us!
  Try Jira Integration